3 1/2 ***
**This restaurant is no longer there**
For the last couple of months, Çukurkeyif Bahçe has been Çukurcuma's best kept secret.  Now word of mouth has started to reach the newspapers and it won't only be frequented by those lucky enough to have heard the whisper from someone who knows someone who's been. 
It's so well hidden, you wouldn't even stumble across it by chance, tucked away at the end of a little side street going down into the antique furniture district.  Well worth looking for, it is an open, vine covered garden, strewn with tea lights and lanterns, that's a laid back daytime cafe and a relaxed, but sophisticated and intimate evening venue.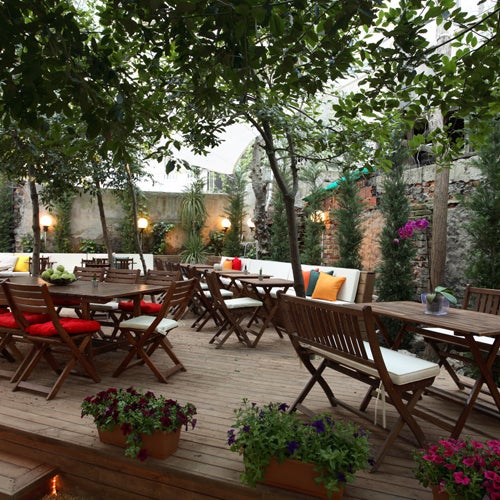 The  menu features some of the usual suspects in the salad and pasta lines, but the homemade 'annemin' (my mother's) pasta and the surprisingly spicy Kuşka chicken, or the grilled chicken with thyme, served with fantastically garlicky crushed potatoes and bean salad (börülce) deservedly stand out.  Twice successfully ordering off-menu brought me the best risotto I've had in Istanbul, crisp vegetables and rice with bite, and the best grilled vegetables in Cihangir by far, proving that aubergine can be perfectly grilled without swimming in oil, served with generous slices of parmesan to complement.
Slightly marring the experience is a tendency to overdress salads (just ask for dressing on the side instead) and pasta cooked to Turkish preferences (ask for it al dente) but, on the whole, it's obvious the chef really cares about what he's cooking and how it's presented.  A dark chocolate souffle came with a strange ice cream cone construction but exploded with velvety sauce in a 2 man sized portion.  Cocktails are mixed with the same attention, with innovations like a green satsuma mojito, and frozen cocktails at Beyoğlu prices.
Altıpatlar Sk, Altıpatlar Çıkmazı No: 4,c
To read the story behind this review, go here.